Mixed Music Distribution Network
This website is an initiative to promote mixed music by making the repertoire of mixed music more visible and easier to access. RéDi-Musix stands for Mixed Music Distribution Network (Réseau de Distribution de la Musique Mixte).
Mixed music brings together an acoustic instrument and an electroacoustic environment. To produce this kind of music, we need scores, but also configurations for the electro acoustic elements inseparable from such a work. While the distribution of scores does not cause any particular difficulties these days, the difficulties concern the performing of this kind of music.
How can we find a device that is both flexible enough and easy enough to use, and can also exchange or send configurations and sound files for this same device, directly to the musician so that he can start working and playing his instrument?
To answer this question, we propose to standardize the electroacoustic device to guarantee the possibility of performing and reperforming the work in various places and situations.
The Sampo
The Sampo is an innovative device meant for widening the sound field of an acoustic instrument. It is a device with several pedals (from four to seven) which allows the soloist to modify the sound of his instrument using simple gestures.
The Sampo is a very intuitive device. Every action affects the sound parameters of the instrument, allowing the musician to hear the results immediately.
In addition to being played by professional musicians in concerts, its ease of use makes the Sampo particularly interesting to teach electroacoustic music, contemporary music, jazz and improvisation at conservatories and music schools.
For more information on the Sampo terminal and the list of pieces currently available, please visit the website: www.sampo.fr.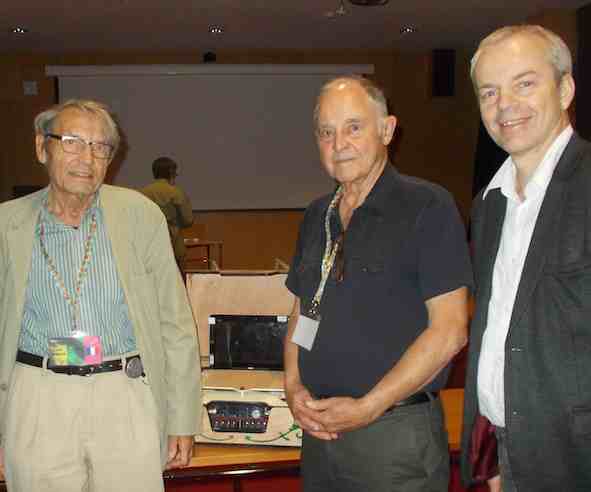 On the picture above, Marie-Violaine Cadoret at the Art & Science Days festival in 2015.
On the picture to the left, Jean-Claude Risset, John Chowning and Alexander Mihalic (inventor of Sampo) with the Sampo prototype at the international conference Electroacoustic Winds 2015.